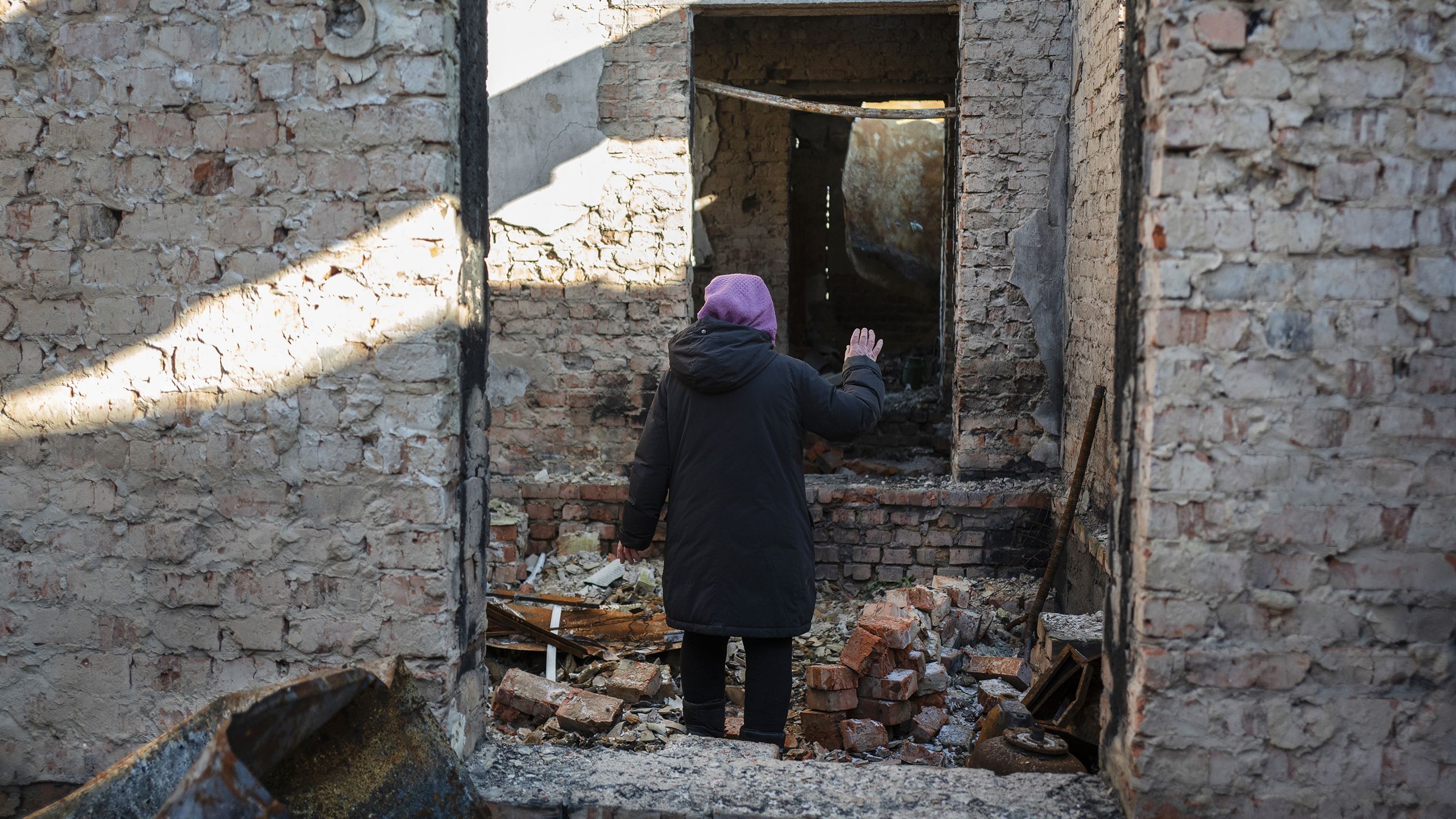 In Ukraine Oxfam is partnering with ten local civil society organizations to deliver life-saving assistance and protection to the poorest and most vulnerable people affected by the war. Many had no prior humanitarian experience and had to adapt quickly in the most challenging of conditions. Oxfam heard the stories of some of those who have been at the forefront of the response to this conflict since it started.
It's been a year since the war in Ukraine began. A year of heavy fighting, shelling and air strikes that has destroyed homes, broken families, and injured and killed people. A year that shattered the lives of Ukrainians and forced millions to flee.
But a year that also built an incredible solidarity between citizens, supported by the dedication of local civil society organizations and volunteers who have been at the forefront of the response to this crisis from day one.
Neighbours who welcomed displaced people into their homes. People who gave them shelter and basic needs and a haven from further harm. Many local groups had no prior humanitarian experience and had to scale-up their work quickly, often using their own resources and working in their own time. They have often been overwhelmed.
Ten of them decided to work with Oxfam in Ukraine, delivering life-saving assistance and protection to those who need it most.
"Everyone was so lost"
Civil society organisations in Ukraine weren't fully prepared for war. No-one was. It did not come as a total surprise, but none of the staff could really believe it would actually ever happen – until it finally did.
Many had to act quickly in a chaotic environment, overcoming the panic and stress during the first days in order to organize themselves despite the risks, trying to find their way through huge amounts of information and rumour.
"We hadn't expected such an escalation of the conflict. People were arriving in railway stations without their documents. They didn't know where to eat, what to wear. They didn't know where to go. It was very hard. We were not ready for such a scale of civilian suffering and insecurity. Working in the railway stations also put ourselves at risk, after we learned that there was shelling on railway station in eastern Ukraine."
Tetiana Kutas, project manager at The Tenth of April (TTA)
"We had a plan elaborated for our organization, with safe locations of where we could move. In the end we didn't go anywhere where the war started. We didn't want to leave Kyiv, to leave our community. We understood that what was happening around us was terrifying, that Kyiv would be occupied or under the threat of occupation, but we understood people would not leave the city. And we felt responsible for them."
Anna Leonova, Executive Director of
Gay Alliance Ukraine
"People cannot imagine how it was one year ago, nothing was working, no products, no services, no transport. We didn't know when the supermarkets were open or even working. There were long queues in front of stores and elderly people were not able to stand for so many hours." "We organized a transit shelter at the office and volunteers' groups to go out to find, buy and distribute food to people. Without volunteering we would simply not have survived. We felt helpful and it helped us not to give in to despair."
Anna Leonova, Gay Alliance Ukraine
"In the first days after the 24th of February, we started to organize hot lunches at the railway station in Odesa. We installed trucks and collected hygiene kits for displaced people," remembers Viktoriya Gora, project manager at Caritas Odesa, which is now providing cash assistance to vulnerable people in partnership with Oxfam. "Everyone was so lost. But there were also a lot of volunteers who connected themselves together through a Telegram group. Whenever there was a message asking for volunteers for the next day, you had to be very quick to sign up, because the places would be filled in less than one minute."
Despite the risks, local groups like Tetiana's and Anna's began mobilizing from the very first days, supported by a big, spontaneous outpouring of volunteers and local aid. Civil society organizations, groups of volunteers and local communities immediately organized, began distributing basic necessities and offered shelter and transport.
"We didn't know we had such a strong civil society"
Everyone recalls how impressed they were by the solidarity shown from the first days of the war, how ordinary people self-organized to support and help each other, how they were united.
"When there was a distribution of food and supplies, people took just a little, because they believed they should leave enough for the others, and that they take care of each other. Many of us didn't know our neighbours at that time. We started sharing the food that we had or that we could get", says Anna Kulyeva, director of Charity Organisation "Charity Foundation 'Anika'".
"I remember hiding in the basement during particularly heavy bombings and air raids in our area of the city, when a woman started to pray for our life. Everyone was silent and we listened to her, while the walls of the house around her were shaking from the explosions. It cannot be forgotten."
Anna Kulyeva,
Charity Foundation 'Anika'
"We were really struck by how ordinary Ukrainians started to act, how they organized themselves in volunteers' groups and mobilized on such a large scale, how they risked their lives when evacuating people from really affected areas, providing humanitarian assistance under shelling. We really didn't know we had such a strong civil society."
Tetiana Kutas, The Tenth of April
Huge challenges ahead as winter settled
Few of these organizations had any experience in humanitarian responses before the war. They accepted Oxfam's offer of funding and technical assistance and have been able to expand their work and capacities to cope with the large numbers of people displaced in Ukraine and the huge increase in need. They have been providing cash, food, hygiene products, legal and psychosocial assistance, organizing safe transport and shelter, repairing damaged homes and restoring livelihoods.
Even in the presence of war, they have carried on with their core missions: to protect the poorest and most vulnerable people. But the challenges ahead are immense.
Since the beginning of the conflict, 14 million people - nearly a third of all Ukrainians - have been forced to leave their homes and nearly 6 million of them even now remain displaced within the country. It is estimated that today nearly 18 million people are in need of humanitarian assistance.
As winter settled, many families lost their livelihoods, and some their homes which were often completely shattered or severely damaged. Others fled active war zones, without knowing what they would be facing, their resources dwindling as the months passed. Many others have suffered psychological trauma which can suddenly manifest at unforeseen times, sometimes even just over the act of having to fill out a simple registration form.
These agencies have worked tirelessly to support displaced persons and the communities that host them, despite power, supply and transport problems, particularly outside the big cities.
Protecting the most vulnerable
Mykolaiv region, east of Odesa. Children play in front of a building located out of sight, in the heart of a seaside resort all but deserted at this time of the year. Women go about their daily tasks while a little further, men chop wood. Having fled the fighting in the east of the country, these families – among the most vulnerable – came to seek refuge in this former hotel which was transformed into a collective centre, a place where they can feel safe, find food, assistance and protection.
"I am from the Kherson region, we have a large family, I have three young children. We spent nine months there under occupation, we couldn't leave at all, because there was shelling and we were living in the basement. We were constantly afraid. We hardly ever went out and our children didn't go out either. We had to leave our village under fire. We found people from our village who had been living in this shelter for a week, they gave us the Tenth of April's phone number and we contacted them. They have helped us a lot, providing accommodation, food, bedding, everything we needed for basic necessities."
Yana, 34, lives in a shelter for displaced persons in Mykolaiv oblast. The Tenth of April helped to evacuate her and secure her a place in the shelter where she lives with her children.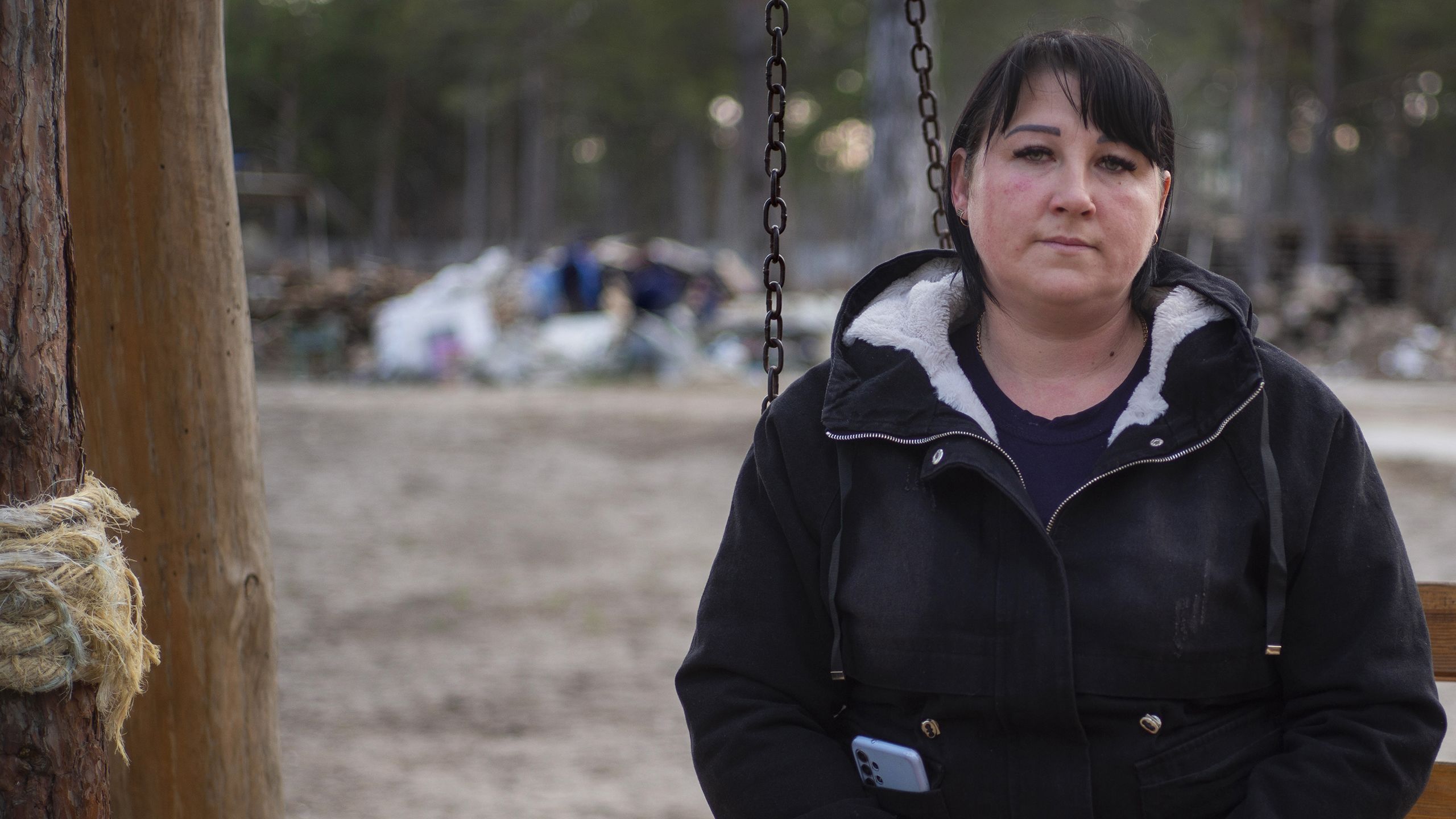 The shelter is managed by The Tenth of April, whose staff accompany families until they are settled, helping them with papers and transport. Around 200 people are currently homed here, including 60 children. Tenth of April provides all kinds of services for free, including food and hygiene products.
"Thanks to Oxfam, we've been able to broaden the scope of our work, improve its quality and diversity, and strengthen our capacities," says Tetiana. "We can now provide a wider range of assistance to these people such as cash assistance, shelter, transport services, psychosocial and legal support, distribution of food and hygiene products. We are very grateful to have to opportunity to collaborate with Oxfam and to engage into a real partnership, not just a funding relationship."
"A lot of people think they will only stay here for two weeks, but some have been here since April. They no longer have a job. Children attend school online but not all families can afford the cost of tablets or laptops. With the war dragging on, people have fewer and fewer resources, even in the big cities it is becoming more difficult for the displaced people, as well as for the communities that host them."
Tetiana Kutas, The Tenth of April
Sowing seeds
Further north in the small town of Domenivka, Iryna Volovyk, project manager at Rural Women Business Network (RWBN), a local NGO supporting empowerment and entrepreneurship of rural women, oversees a project distributing seeds and agricultural equipment to local farmers and displaced people. She too remembers vividly the early days of the war.
"When the war broke out, local farmers in the East started to call us. A lot of them didn't know what to do. Some asked for our help to move to the West. We supported them and organized their resettlement. In Dnipro processing plants stopped buying from dairy cooperatives, because of the war – but people still had their cows, and you can't stop a cow from producing milk. So, what to do with milk? We bought some equipment to make homemade cheese that could be sold on local markets, so that these farmers could survive."
Iryna Volovyk, project manager at Rural Women Business Network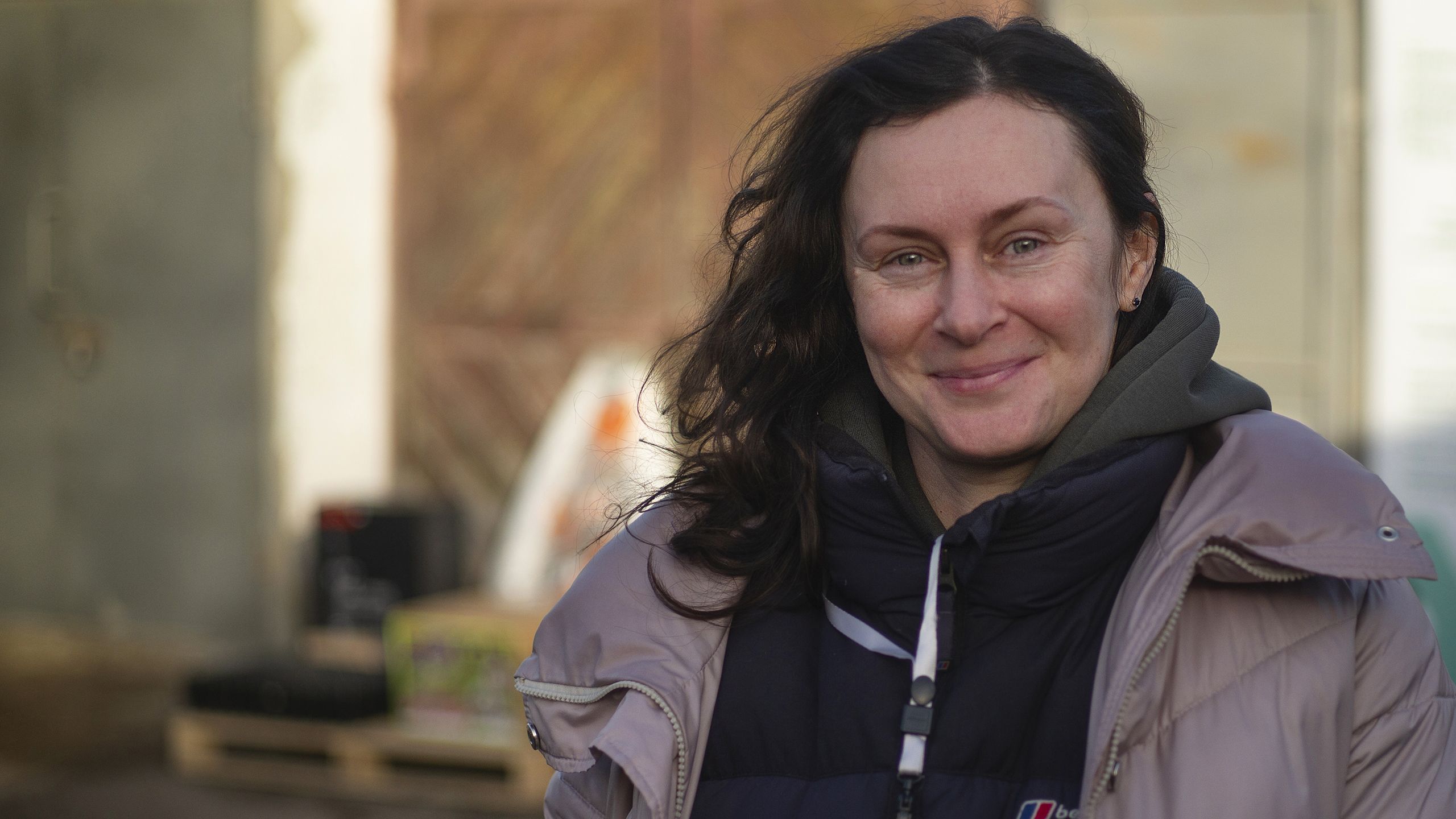 In partnership with Oxfam, RWBN plans to help more than 1,000 local farmers and displaced people by giving them seeds and equipment so that they can grow their own vegetables, and eventually sell them on the local markets.
In a country where, according to the World Food Program one in three households is food insecure, restoring livelihoods is not only essential to secure food supply, "it's also a question of dignity", says Iryna.
In Domanivka, the organization also supports a local agricultural cooperative which manages four large greenhouses where, depending on the season, farmers grow radishes, tomatoes, cucumbers, cabbage and greens, some of which are used to supply schools and hospitals. RWBN plans to install twelve more greenhouses soon.
Windows of hope
Chernihiv, north of Kyiv. Everything here bears the marks of fierce fighting that besieged this city for weeks. Houses are destroyed, debris litters the roads, windows and doors are shattered. Entire families took refuge in the basements at the height of the fighting, sometimes for weeks. Others left, only to return to find they had no safe home to return to.
"When the bombing started in the middle of the night, it was so terrifying. The missiles were flying. We were sitting in the cellar with the children. It was rumbling and thundering around here. We didn't understand what it was, we were not expecting it. We were sure that nothing like this would happen. The explosions broke our windows and damaged the walls and roof.
After we registered for assistance, really nice local workmen came. They took the measurements, and then, when the windows were made, they came here and fitted them. The work was of high quality, very professional. We are so grateful to everyone."
Svitlana and Serhiy, who live in the outskirts of Chernihiv and received new windows from Because We Can community-based organization.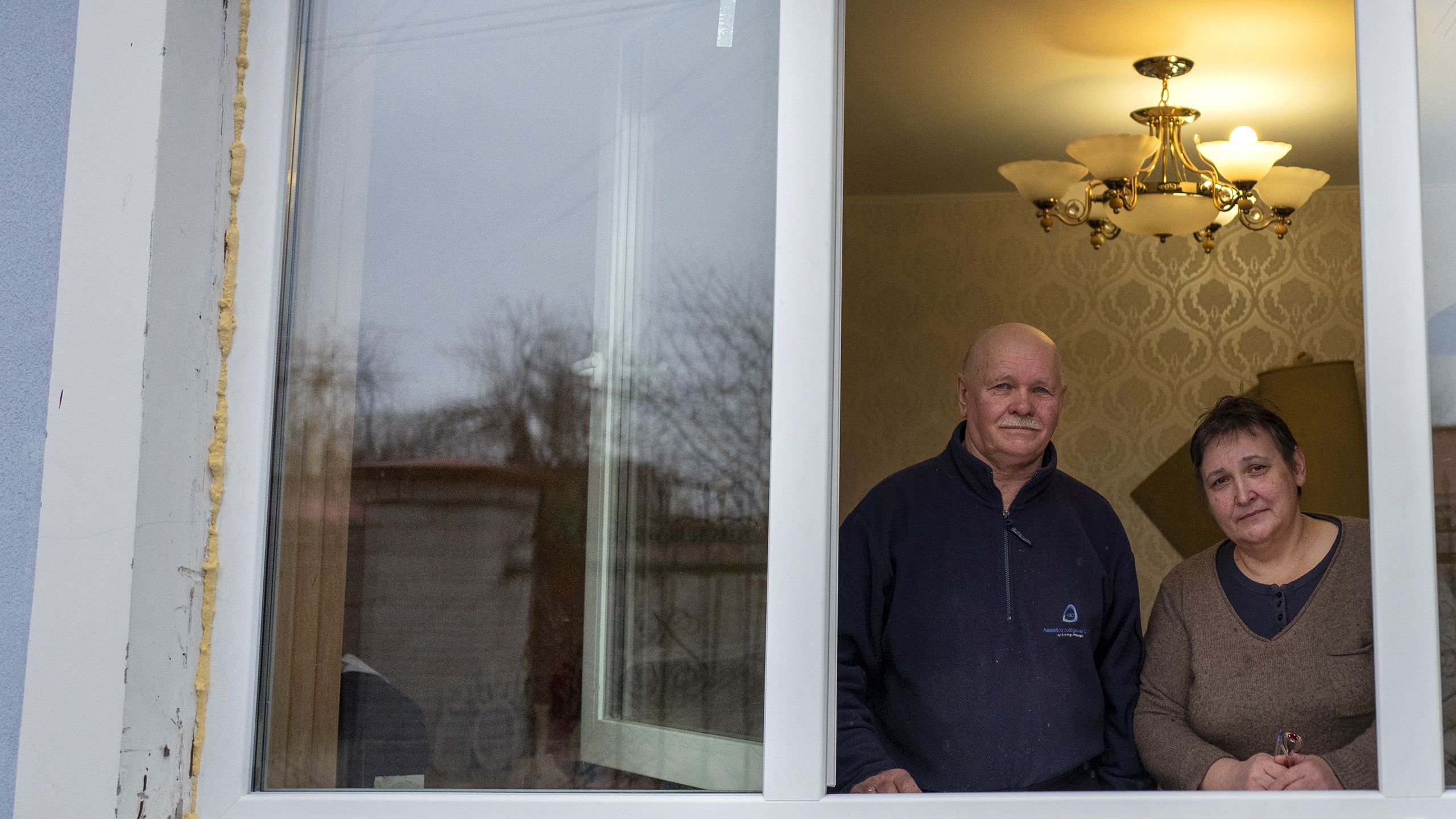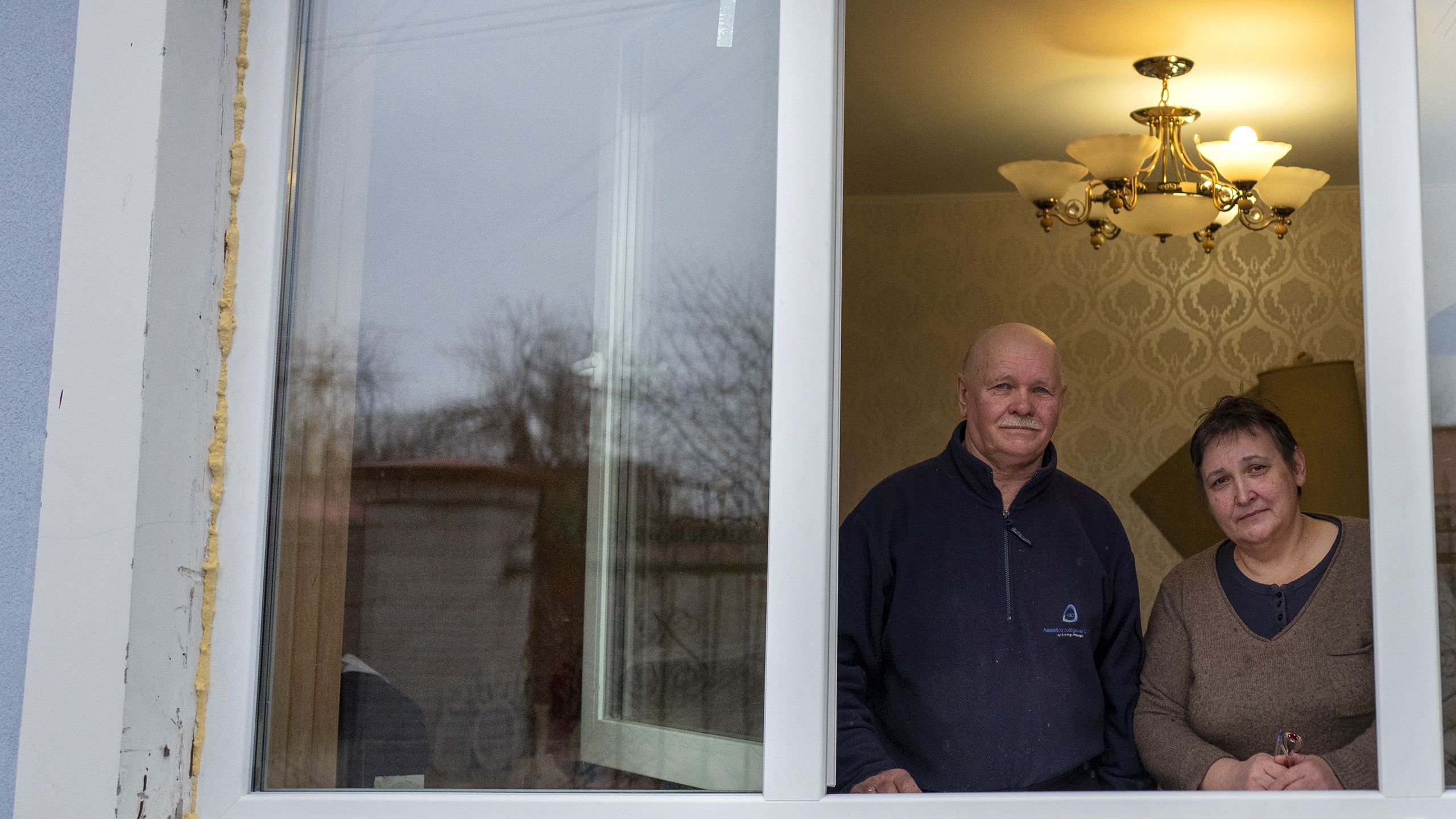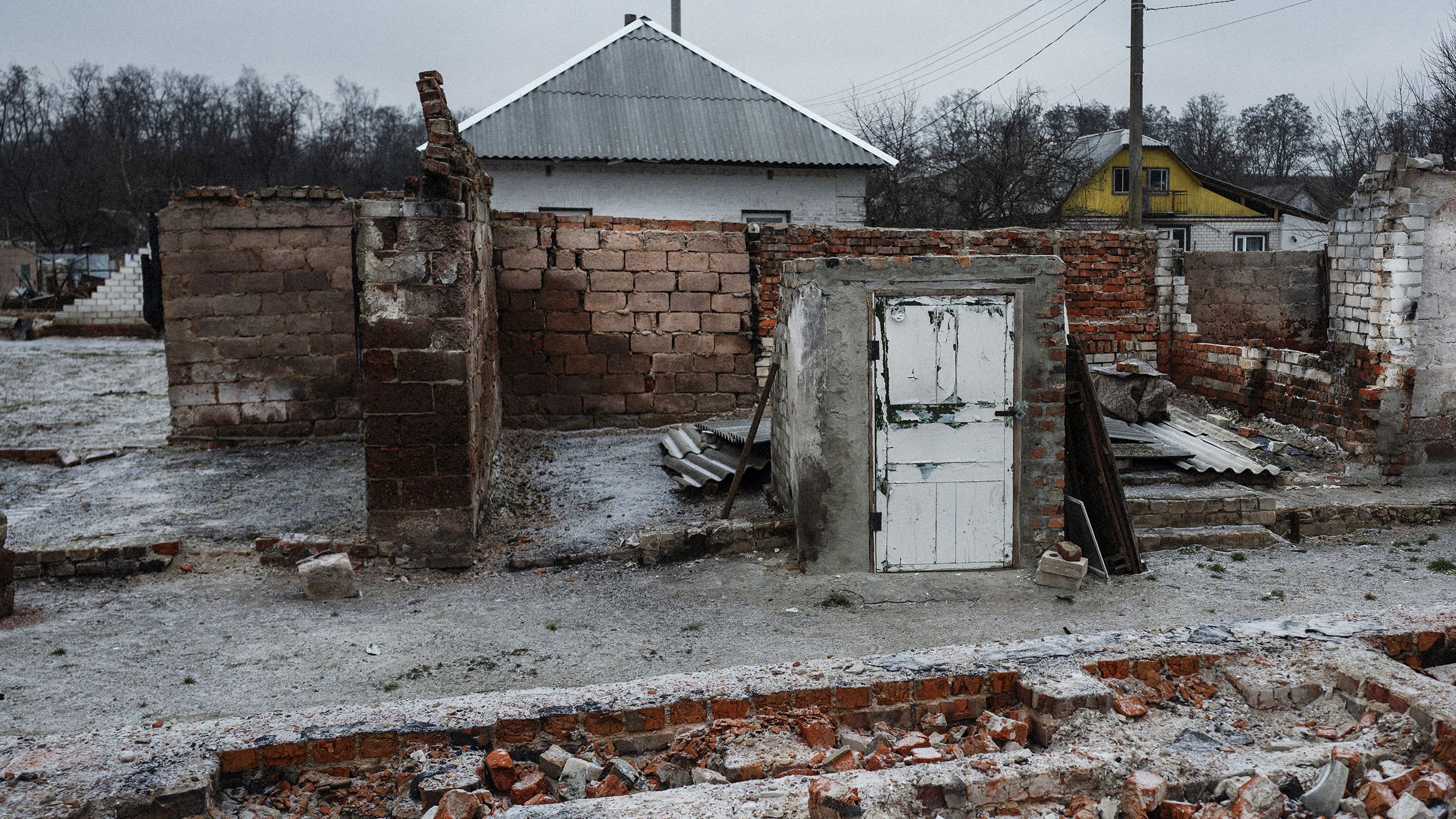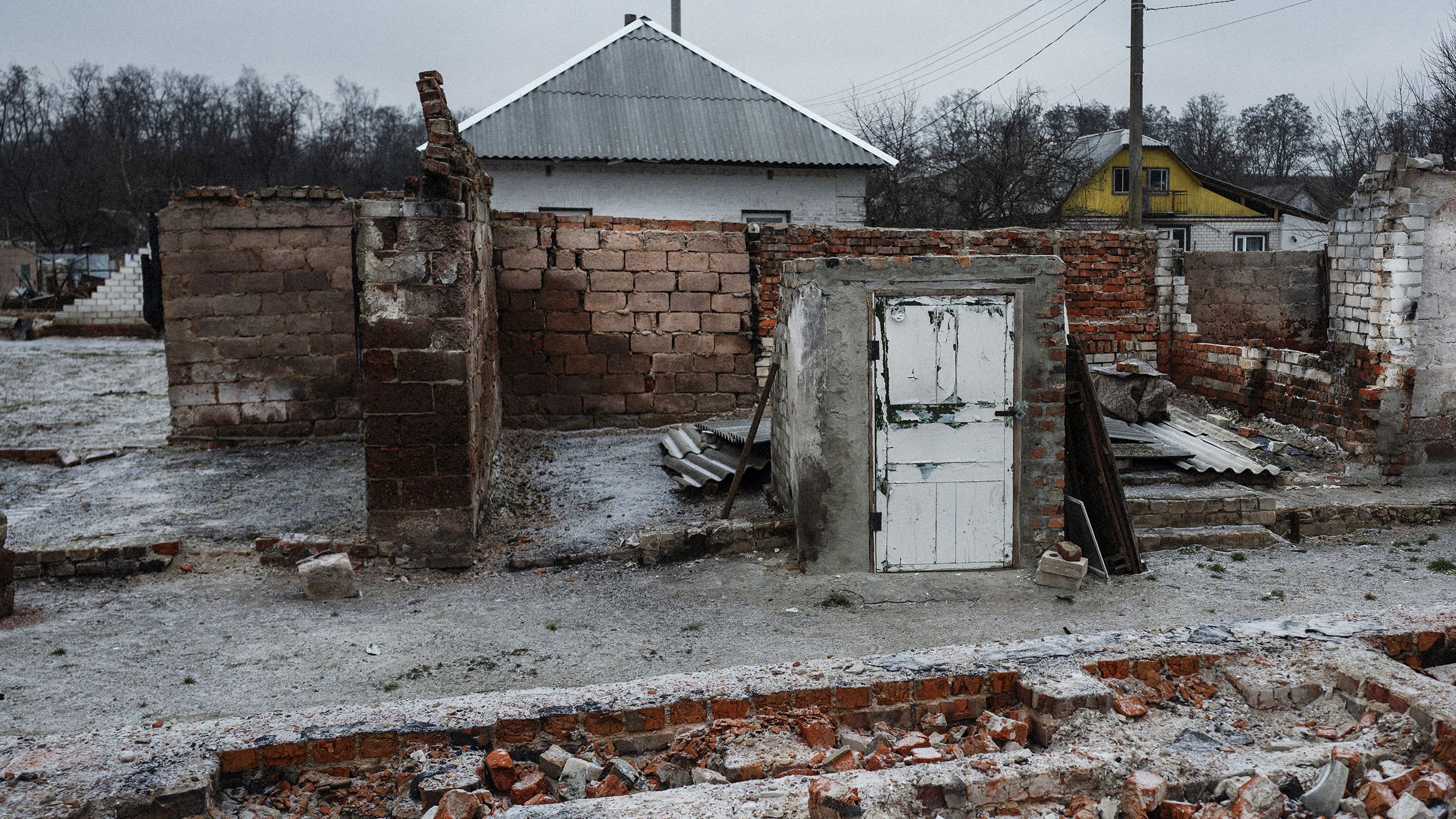 The battles over, people have begun to reconstruct their homes and lives, but with the freezing winter temperatures it is a race against time. To get resources most quickly to local communities and help protect people from the cold, Oxfam collaborates with grassroots organizations that formed shortly after fighting ended and are the nearest to the people who are most in need. Made up of neighbourhood volunteers, friends of friends, and residents, they coordinate distribution of food and basic necessities, and above all reconstruction.
For this, they organize "tolokas", a Ukrainian tradition of helping out neighbours, relatives and friends. Toloka is a process of free "one-time" work together in order to get a big task done most quickly, outside the working hours of volunteers. In Chernihiv, community-based organizations like Oxfam's partners Anika Foundation and Because We Can use tolokas to help people clear the ruins of bombed houses, replace windows and doors, repair roofs, fit electricity and undertake other repair works that don't require big financial or material outlay.
"Because We Can started in May 2022 with one person only. By August the number of our regular volunteers had reached around 100 men and women," explains Andriy Galyga, head of the organization. "Oxfam gave us a powerful support, allowing us to provide help to more people and to cover financially all the needs, which we couldn't do alone. On our side, we are a local, flexible organization, we know people's needs better and we can address them very quickly. We can coordinate and also help make sure there is an effective spending and cost management."
When the war is over…
Local community and civil society groups know that reconstruction will not stop at windows and doors. Solving economic problems, rebuilding of infrastructure, dealing with people's psychological trauma and rehabilitating war veterans: the end of the war will not mean the end of their work.
Their future as agencies is also an area of concern. Because of the war, they had to restructure and operate at a scale never reached before.
"When the war is over, we'll have to concentrate on many more challenges. Infrastructure is destroyed, people have lost their relatives, their jobs, their savings, their future, their expectations. We'll have to build new houses, new factories, new roads. We'll have to restore entire public institutions. It will take time."
Anna Leonova, Gay Alliance Ukraine
Volunteers, community groups and local NGOs were the first to respond when the conflict escalated to war in Ukraine and remain the main providers of humanitarian aid in the country. They have made the biggest primary contribution to the humanitarian response within the country. Despite this, higher value in humanitarian action continues to be placed on the capacities of international actors, while international NGOs tend to work with the same "known" local organizations.
One of the critical pillars of Oxfam's humanitarian response in Ukraine was that it be genuinely locally-led. Oxfam's design was to enable, support, and facilitate the work of local actors as the leaders in shaping the best, most appropriate humanitarian response to people directly affected by this crisis, that local partners be advocates for change, and to ensure they had roles of greater decision-making power and responsibility. We believe that they should have more presence and participation in humanitarian coordination and decision-making bodies.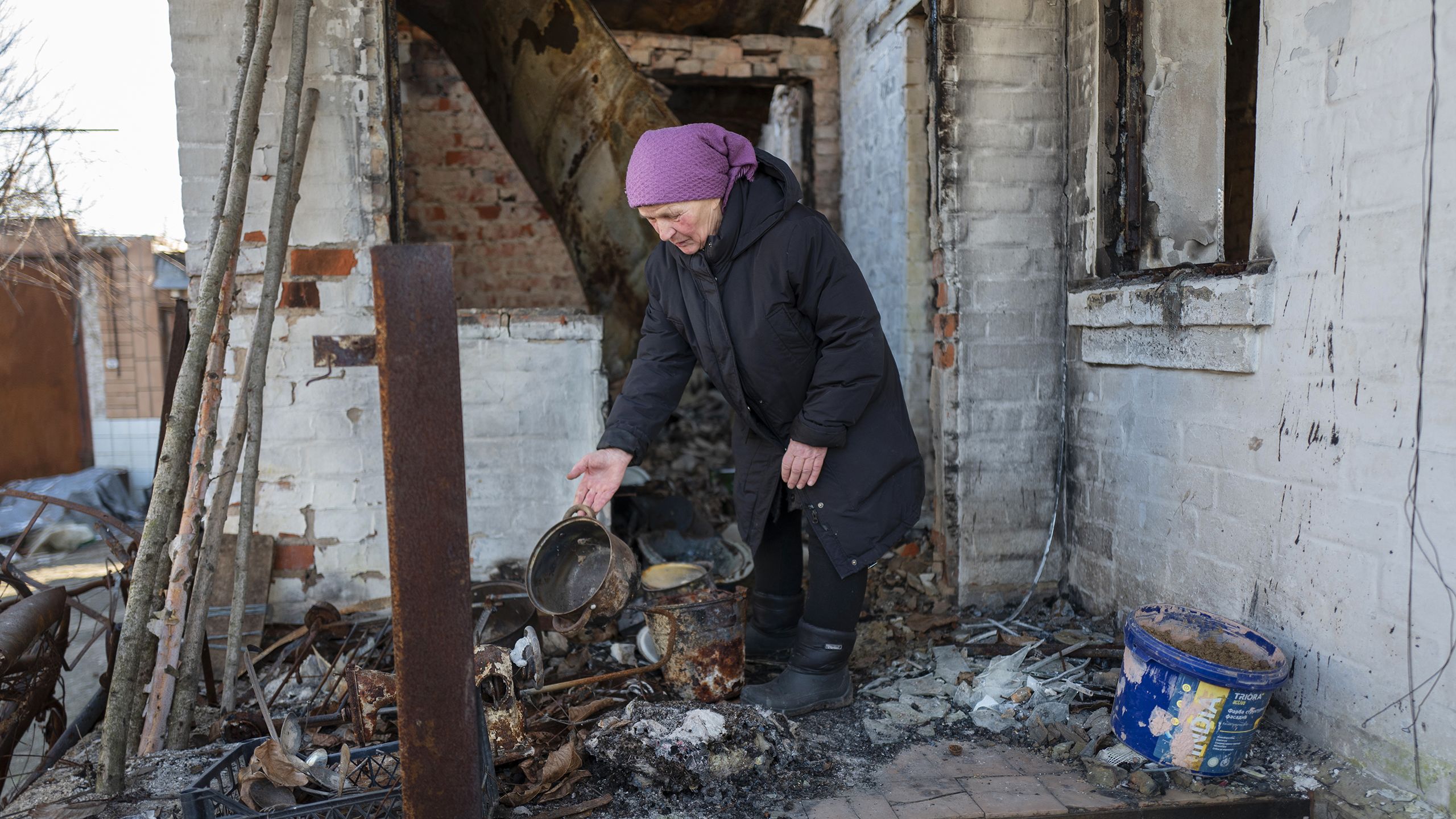 Nadiya Pavlenko, 75, hid in her basement from beginning of war with her daughter and son in law until the 8th of March.
Nadiya Pavlenko, 75, hid in her basement from beginning of war with her daughter and son in law until the 8th of March.
We engaged with grassroots organizations knowing they had limited immediate experience of working with international agencies – but also realizing they are rooted in these local communities and have a better understanding of people's needs, given their contextual knowledge and understanding of local realities. This helped us to mount a quicker, collective response while also preparing these organizations for greater challenge in the future.
Oxfam can do even more, and better. Fostering a true complementarity with local partner organizations takes time, building on their strong capacities and learning from their unique expertise. Only then can international organisations like Oxfam effectively support the most vulnerable communities, which, one year on, is an effort that is still crucially needed in Ukraine.
All photos credit: Kieran Doherty/Oxfam